Leaving from the suburb of "Fabbrica", after few hundred meters we leave the paved road and get into a beautiful landscape, multicolored during springtime by the many different crops: oat, lucerne etc..
On the clay hills, we descend to the plain "Ripassaia", which was created by the "Era" river, and we walk along for around 2 kilometers; in summer is full of brooms and wheat fields. At the farm "Tonaca" we go uphill again, and we find the fishy "Gattero" lake on the right.
From the hills of "Diacceroni", we go up again to the resort "Montecuccheri", shortening the path, or we can decide to continue towards "Poggio Rosso", walking through stretches of dense vegetation, until we find the road "La Bonifica". After about 3 kilometers, we take the road to "Montelopio-Fabbrica", ending up the route here.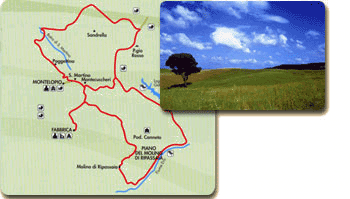 Ripassaia Mill Route