its origins are from the Medieval period and the structure of the village is like a structure of a castle where you can access by a bridge, probably in the past it was a drawbridge.
 History
Initially the city was dominated by Lucca, then by Pisa, but in 1362 Florence conquered it., conducted by the leader Rodolfo II Da Varano that after have taken the city, he took a rock countryside to Florence as prize, and it was set in the gallery of Palazzo Vecchio.
The village (called "Toiano Vecchio" since that time) was wrecked in 1364 by Florence citizens and the site became part of Pisa another time, after a promise of peace between the 2 cities.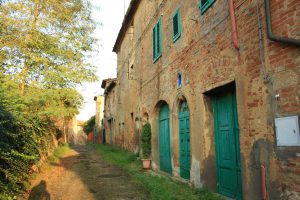 Citizens of Troiano uilt another time the village (called "Troiano Nuovo" since that time)  but the city come back under the control of Florence in 1406.
Today the village is disambiguate and it is part of the census of the places of the heart to be saved, of the "FAI". Then there is even a eleventh-century and desecrated church, built by square stones for San Giovanni Battista.
It is situated in a important and  paternalistic zone, between the Palaia and Volterra areas, on the Pisan hills and sand's furrows and they trespass in the crags of the zone around Volterra.
This village has the memory of a tragedy, Elvira Orlandini's homicidal (even called  "bella Elvira"), a 20 years old girl with the throat cut in the near woods and in 1947 it became a mediated case.
Some years ago thanks to Oliviero Toscani we talked of the village and we dedicated a photographic concourse to Toiano