LIQUORI MORELLI
The Liqueur Factory "Morelli" was born in 1911 in Forcoli (Palaia), from an idea of Lord Leonello Morelli, whom was very keen on turning a passion into a real work. Leonello, then owner of a small bar, used to enjoy mixing extracts and essences to create infused liqueurs, which then he used to offer to the customers. That is how he had the idea of ​​creating a liqueur factory, which was founded in 1911. It was an instant success, in a few years Morelli products spread to most of Italy, becoming synonymous with quality and authenticity. From 1911 to our times several Leonellos have taken the lead of the factory: Leonello's son, Dante, and his nephew Piero, until 2009, when Piero's sons are firmly working as the 4th generation of Morelli: Luca, Paolo, Marco. They are continuing the family tradition, creating (with their parents) in less than twenty years a company that has, among his customers, very important restaurants, lots of italian wineries, wholesale distributors of prestige and a network of direct representatives well branched throughout Italy.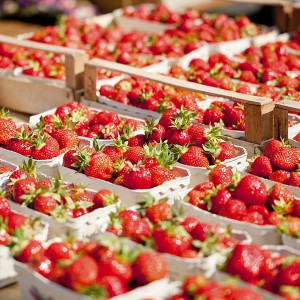 STRAWBERRIES OF TERRICCIOLA
Among the various excellences of the territory of Terricciola excel for quality strawberries, which at the annual Strawberry Festival , you will find on the stands inside the communal garden revisited and mixed in other dishes, along with the wine (the good one) of local producers, national and international awards winner.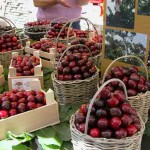 CHERRY OF LARI
The cherry of Lari is a particularity of cherry grown all over the territory of the town of Lari (today a suburb of Casciana Terme Lari ) and in various other locations of the Pisan Hills. They were surveyed 19 different qualities: Gambolungo , Cuore, Siso, Papalina, Del paretaio, Morella del Meini, The Nello, Di Guglielmo, Orlando. Elia, Precoce di Cevoli, Morella, Di Giardino, Marchianella di Lari, Usigliano, Morellona tardiva, Marchiana , Montemagno also calledAngela , Crognola. They produce about 50 tons, equal to 0.03% of national production which is 50% of the Tuscany. In 2002 a committee was created with the aim of obtaining the DOP or IGP. Every year in June, in Lari it occurs the Cherry Festival .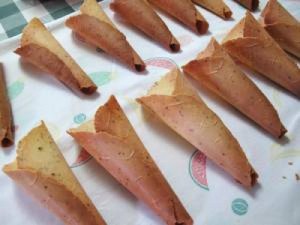 NOZZA DI CALCINAIA
The Nozza is a typical local cake that was used in the areas of Pisa at weddings. The ingredients are: sugar, eggs, anise liqueur, flour and vanilla sugar.
The cake, which is the final touch to the typical local cuisine, is produced by the women of town in "industrial" quantity, to present it to all guests Calcinaia, and obviously to invite make them taste it. The real Nozza is produced in Calcinaia but it looks very similar to the more famous brigidino of Lamporecchio.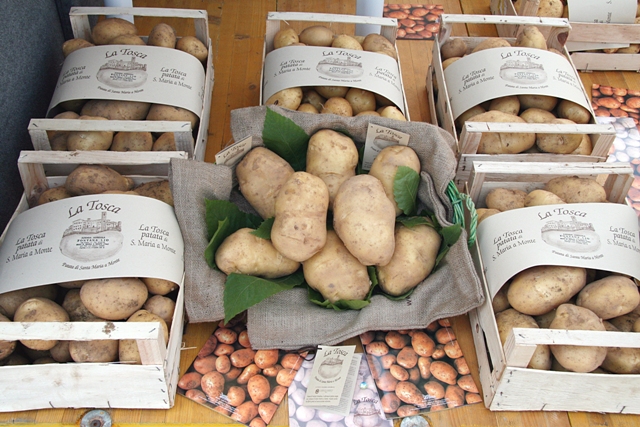 POTATO OF SANTA MARIA A MONTE
This potato, also known with the name of "Tosca" in the municipality of Maria a Monte , a traditional production area for the cultivation of this tuber, best expresses its productive traits as it optimally suit to local climatic conditions. The plant has few stems, but very large, light green inflorescences with small white flowers. The tuber is elongated oval of skin, yellow flesh and shallow eyes. This type of potato has a good resistance to cooking, quality that makes it optimal for all types of culinary preparations.