Morrona is an hamlet of the community of Terricciola
HISTORY
The first notices of Morrona are date back to year 1000. At the time under the control of the Cadolingi's counts. In 1294, Morrona was used as refuge of ghibellini. All follow Guido da Montefeltro podestà of Pisa, they undertook a bloody war against the guelfi established in Peccioli.
In 1496 it fell under the Florentine control. In 1833 Morrona counted 460 citizens.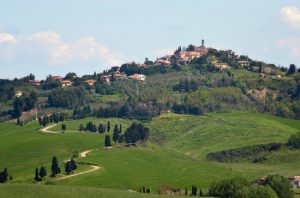 Monuments and Place of Interest
Abbey and church of Santa Maria, it's an important religious complex of the territory,it was founded in 1089 by the counts Ugo della Gherardesca. it was suppressed in 1482, it was residence of the bishops of Volterra. The actual church was built in 1152, when it was decided to transfer the ancient monastery.
Church of San Bartolomeo, the parish church of the hamlet is date back to the medieval period, but the facade show the signs of  nineteenth-century remakes. It has the unusual irregular largeness of two lateral naves, testimony of the extension of primordial nave. In the presbytery, it conserve the "Martirio di San Bartolomeo", of Tuscan school of the first middle of 1700.