Monumento ai Caduti and his rock seats are in Garibaldi square , in 2005 was exposed an important restoration and requalification of the urban area.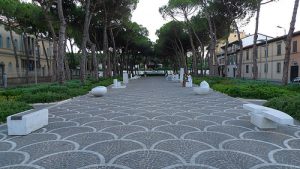 'Monumento ai Caduti per la Patria' was inaugurate in 1969, but since 1969 it was exposed to others changes, such as etched inscriptions in the marble in memory of the all war' victims, or the tablet that remember the Liberation's 60th anniversary.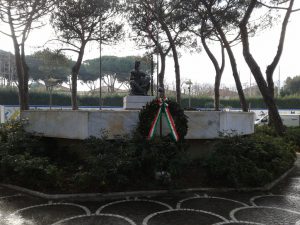 In the middle of the marble' complex there is the bronze sculpture:  "Pietà laica" of Loris Lanini. The sculpture rapresents a young woman with close eyes, and she's keeping her sacrificed son on her knees.
On a side there is a raised chain, that culminate with a beam where there is a dove.
The chalk cast was a real 'Pietà con la Madonna e il Cristo morto', that today takes place in the first recess in left' nave of Duomo. "Colomba per la pace" of Nado Canuti is the last monument' item.
ROCK SEATS' PROJECT:
The work' area is defined by a little green area and surrounding by "Rock Seats" which has been made by 17 of the most important international artists of contemporary art.
They've called to accept a challenge, "panchine d'autore", it's able to combine art and communication with a typology of urban renewal, the "panca", generally passive and  inanimate object of the civiv daily life.
The creators of "Rock Seats" are: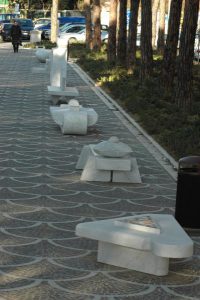 Joe Tilson, Cordelia von den Steinen;
Girolamo Ciulla, Pietro Cascella;
Nado Canuti, Giò Pomodoro;
Jean Paul Philippe e Rinaldo Bigi;
Marcello Aitiani, Mirella Forlivesi;
Yasuda Kan, Viliano Tarabella;
Daniel Couvreur, Venturino Venturi;
Mauro Berrettini, Daniel Milhaud and
Manuele Giannetti.