In the heart of Tuscany, between Pisa and Florence, on gentle hills covered by vineyards, it lies the cozy Le Sodole Country Resort strong>.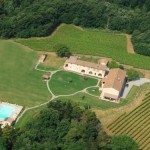 The two buildings that make up the Country Resort today, constitutes since 1700 the core of the housing estate Le Sodole, a property that over the centuries has belonged to noble Tuscan families such as the Franceschi and the Torrigiani Malaspina, until arriving in 1976 to the Count Aldobrando Azzoni Avogadro, the current owner.
Today after a long and careful restoration, they have been created 12 comfortable apartments of various sizes that can accommodate up to 6 people each. Le Sodole Country Resort offers a large swimming pool surrounded by greenery and a small spa with sauna, turkish bath, gym and massage room.
Within the structure, also available to guests, there is a golf practice green and a fascinating room, suitable for conferences and for wine tasting from the cellar of Azzoni Avogadro.