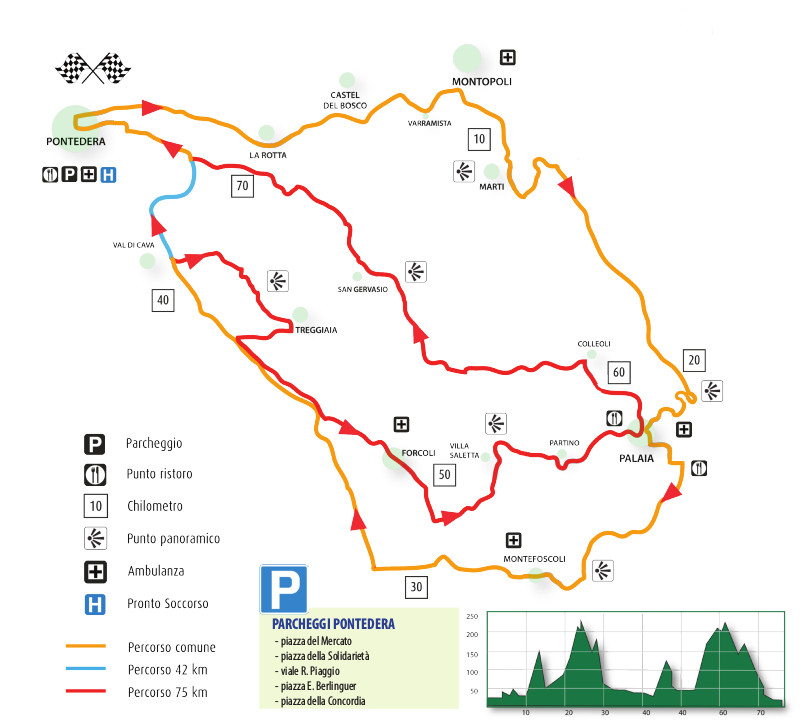 There are 2 different routes: the first one is 75 km long, the second one, shorter, is 42 km.
The route is entirely asphalted, apart from a little stretch of 100mt that leads up to the medieval village Villa Saletta, which is worth a short visit. Traffic is regulated, but not banned, so all participants are kindly asked to pay due attention and respect the rules of the road.                The uphills are all quite challenging, particularly those from Chiecinella to Palaia and the ones in Villa Saletta. There are two very steep descents, from Marti towards Chiecinella and Montefoscoli towards the county road, to be addressed with due prudence.                                On the way there are two check points, arranged with food and drinks: one at the 25 km mark, towars Montefoscoli, and the other one at the 55 km mark, in the city center of Palaia.            The route is suitable for racing bikes, but can also be completed with city bikes and MBT.           It is strictly required to wear a bicycle helmet.
AWARDS
All participants who will complete the course of 75 km will receive a medal, specially minted for the event. All participants who will complete the course of 42 km will receive a souvenir medal. There is another checkpoint at the 55th km, near the food and drink one, which will control your position.
INFO AND PRE-APPLICATIONS: the start is from 7.30am to 9.45am Pre-application: at the Bar "La Cubana", via R.Gotti, 6, Pontedera. Application fee: donation.
Info: +39 0587 62 21 20-342 35 93 248
Mail: dino.dringoli@tiscalinet.it

 type: Cicloturistica delle Colline della Valdera