Giosuè Carducci was one of the most famous poet of the 19th century. He took part at the cultural life as critic, writer and teacher. He was rewarded with a literature Nobel for his first poetical work.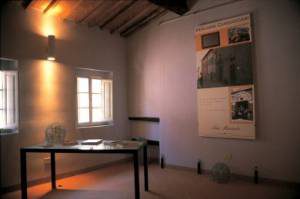 The museum is located in Santa Maria a Monte where Carducci family lived in from 1856 to 1858. The poet's greatest family tragedy occurred in this house: the death of his second son, Dante, who died of unknown and mysterious causes. The poet's father also died a few months later, and is buried, along with Dante Carducci, in the old cemetery of the town (today called, Campo della Rimembranza). The city has organized a guided tour of the places in which the Carducci family lived. The tour also recounts the socio-cultural context in which the poet lived through photographs, reproductions of documents, books and other figurative material.The museum also features a permanent exhibition by maestro Possenti (26 paintings and designs). Possenti's artwork, Il Tenero Gigante, is inspired by Giosuè Carducci's life and work.
Museum informations:
Opening:
Tuesday to Thursday afternoon, from 3:30pm-7pm;
Wednesday, Friday and Saturday morning, from 10am-1pm.
Saturday and Sunday afternoons, by appointment only (reservations to be made the Thursday prior to visits).
Closed Monday.
Price: 3 euro full; reduced 2 euro (groups of 5 or less)
Disabled access: Yes
Contact:
Address: Via Giosuè Carducci, 29, 56020 Santa Maria A Monte
Telephone: 0587704254 – Fax: 0587705649
Website: Comune di Santa Maria a Monte
E-mail: turismo@santamariaamonte.com